Visitor's Say
L-7411 ansembourg,luxembourg

dear reader, thanks to kusumsiri we discovered srilanka.starting by planning together different options,at all the time we got good explanation and advices,while he allowed us to feel safe in this country.kusumsiri was always joyful,honest and a very good driver.we wish you a wonderful experience with kusumsiri discovering your own srilanka gastron & marina

jill & roger grove fareham,hampshire

england

we were so glad to have had siri as our driver.he was always cheerful,patient & knowledgeable.the overnight stop at the ramboda falls hotel was actually memorable with wonderful views of the huge falls from our room.siri look us to some most important places in nuwara eliya & was very sympathy & helpful when i was ill.thank you for a wonderful trip one we shall always remember. jill & roger grove .

Lan Bridges & Sally Harson

27Shueview Rd Felsau Walsali W534A UK Tel : 01922428086

Thanks to Siri Fernando for an excellent day out won rock and the caves at Dambulla. both guys are great company and make the day a please. WE would recommend these tours every time.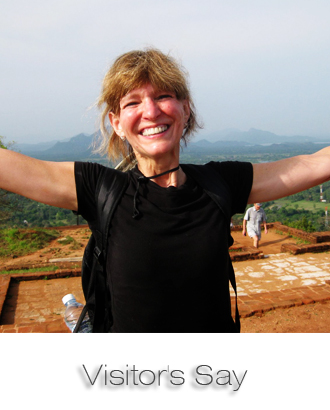 Trust us with your holidays; we have for you a wide choice of tours, hotels & resorts. Our experts can also "tailor" a holiday to your personal wishes!